Available Now!



New cover!

A face-off—head vs. heart

For Jake Badoletti, this year is all about his career. He has a rare second chance to make the most of being a pro hockey player, so no parties, no scandals. Too bad he's met a woman who could sideline those plans. Maggie Goodman is not his usual type—right down to being a single mom. Still, the sizzling connection with this gorgeous brunette can't be ignored.

With a little juggling and a lot of focus, Jake manages to have the game and Maggie. Then his performance on the ice suffers and a scandal erupts. Now he can't afford the distraction of Maggie…even if she is perfect for him.
December 15, 2020

New Series! New Box Set! New Cover! Free Reads!
So excited to share lots of great news with you! (and possibly use up my entire year's worth of exclamation points in one post <g>).
First, my new series for Entangled Publishing has a new name and my first book in the series has a fab new title.
Drum roll, please!
Watch this space for a cover reveal for Icing Temptation, the first book in my Dockers Score! series. Tentative launch date is Jan/Feb 2021, hopefully just as hockey is getting back underway for the long-delayed 2020-21 season.
Lots of news for my New Jersey Ice Cats series too.
First, a delicious new cover for A Perfect Catch.
Also, I've now released A Perfect Collection, which contains the first 3 full length books in the New Jersey Ice Cats series and a bonus novella.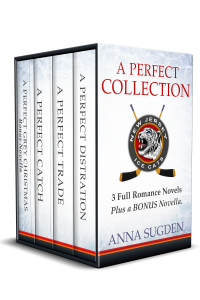 And, because it's the season of giving, head over to my For Readers' section and download not 1, not 2, but 3 free, bite-size festive reads!
As a bonus, you can also download the French and German versions of A Perfect Party!
Wherever you are and however you celebrate, I wish you and yours a wonderful festive season. Please stay safe and take care so that we can all have a happy and healthy 2021!
---


Hello and welcome to my lovely website! I hope you'll stay awhile and have a look around. Help yourself to a cup of tea and some delicious nibbles from the table, while you check out what's new. All the Extras are now in two new sections. For Readers, has all the fun information about the research I did for my New Jersey Ice Cats series, shoes, photos and much more. For Writers, is where you'll find the information on the workshops I've given, articles I've written and downloadable handouts too. If you'd like to see something added to the site, or you want to chat to me about anything at all, please click on Contact Anna.
If you'd like to receive my newsletter, please sign up here. I promise you won't be bombarded with emails - just an occasional update on new book releases!
Tweets by @AnnaSugden