Available Now!



Can you read just one?

A mouthwatering selection of five holiday-themed, bite-sized romances featuring players from her popular hockey romance series, The New Jersey Ice Cats.

A Perfect Contest (July 4th)
Secret Crushes … Unfinished Business!

A Perfect Plan (Halloween)
Who Says Zombies Aren't Romantic?

A Perfect Picnic (Thanksgiving)
No Turkey, No Pies and No Power!

A Perfect Date (Valentine's Day)
Can the Wrong Guy Make Things Right?

A Perfect Chance (Easter)
Making an Egg-stra Effort!
July 2, 2018

Free July 4th Short Story – Limited Time only!
We are having the most amazing summer, here in Cambridge! Glorious weather – although, the garden is in desperate need of rain (perhaps an overnight shower or two would be good!)
Although hockey is over for another season, following a dramatic and exciting Stanley Cup, you can feed your hockey hunger with your favourite players from the NJ Ice Cats. Especially as I'm offering a free download of my July 4th short story — A Perfect Contest — for a limited time.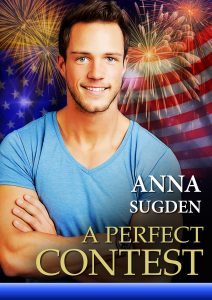 Secret crushes … unfinished business!
The last thing Ally Finnon wants is to strut her stuff in a swimsuit and patriotic head-dress for the annual Miss Firecracker contest. But she'll lose her job if she doesn't.
The last thing recently divorced, Ice Cats' forward, Jordan 'Match' Matcheson, wants is to interrupt his summer break and judge a beauty contest. But he drew the short straw, literally.
Could this finally be the chance for the former high school friends to get together and make sparks fly?
To get your free short story, simply go to the For Readers section of my website and click on the gorgeous cover.
This promotion will only be around for the next few days, so don't delay!
Happy summer (or winter to those Down Under) and Happy Reading!
---


Hello and welcome to my lovely website! I hope you'll stay awhile and have a look around. Help yourself to a cup of tea and some delicious nibbles from the table, while you check out what's new. All the Extras are now in two new sections. For Readers, has all the fun information about the research I did for my New Jersey Ice Cats series, shoes, photos and much more. For Writers, is where you'll find the information on the workshops I've given, articles I've written and downloadable handouts too. If you'd like to see something added to the site, or you want to chat to me about anything at all, please click on Contact Anna.
If you'd like to receive my newsletter, please sign up here. I promise you won't be bombarded with emails - just an occasional update on new book releases!
Tweets by @AnnaSugden