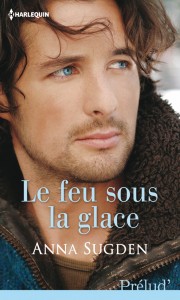 World, meet Jake! Well, how the French arm of Harlequin envisaged him – and I have to say, they're pretty close! Check out those gorgeous ice blue eyes.
A promised, here is the cover of Le Feu Sous La Glace – the French edition of A Perfect Distraction – which will be launched in France, in April. You can pre-order your copy from Amazon.fr here and from Amazon.co.uk here.
If you'd like the opportunity to win a copy of Le Feu Sous La Glace, check back here or keep an eye on my Facebook and Twitter pages – I've managed to get hold of some extra copies of this book, so I'll be running at least one contest to give it away.