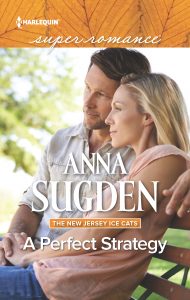 A lot has been happening this month already!
First, I got to see the cover for my next New Jersey Ice Cats' book, A Perfect Strategy, which is out Feb 2017. [Although it is up for pre-order at all good online retailers, in case you want to be sure to get your copy as soon as it it released :)]
I wrote a little bit about the title, blurb and my new cover, including which actors I think best suit the look of both Scotty and Sapphie on this month's post at the Harlequin SuperRomance Authors blog. To give you a hint, think of the TV show Motive.
You'll notice there is something different about this cover, in that doesn't show hockey or skating. That's because Scotty has retired, so much of this book is set behind-the-scenes at New Jersey Ice Cats' headquarters. The idea was to give readers a chance to see what goes on in the Ice Cats' organisation beyond games and practices. I hope you will enjoy this different kind of hockey romance, and the story of how Scotty and Sapphie survive working together!
For an excerpt and buy links, check out the Books section and click on the cover for A Perfect Strategy. Or you can click on the cover on this post.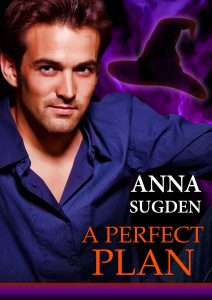 Also, after the popularity of my free NJ Ice Cats' short stories last winter, I have decided to give away some more free reads, starting this month. For a limited time only, I will put up a seasonal Ice Cats' short story for free.
To celebrate Halloween, I have written A Perfect Plan – the story of Ice Cats' forward, Drake Spencer, and his lovely neighbour, Gertie.
Who says zombies aren't romantic?
Ice Cats' forward, Drake Spencer, hopes his plan to take his nephew trick-or-treating will finally break the ice with his lovely neighbor. Unfortunately, Gertie Noakes is having a bad Halloween; she burned the cookies she promised to bake for her daughter's class. The last person she needs to find on her doorstep is the sexy hockey player she's been trying to steer clear of. Can a quick change of plan help Drake win Gertie over?
To download your free copy, simply go to the For Readers section and click on the cover for A Perfect Plan.
Stay tuned for another New Jersey Ice Cats' short story, coming for Thanksgiving!
Until then, Happy Reading!