We are having the most amazing summer, here in Cambridge! Glorious weather – although, the garden is in desperate need of rain (perhaps an overnight shower or two would be good!)
Although hockey is over for another season, following a dramatic and exciting Stanley Cup, you can feed your hockey hunger with your favourite players from the NJ Ice Cats. Especially as I'm offering a free download of my July 4th short story — A Perfect Contest — for a limited time.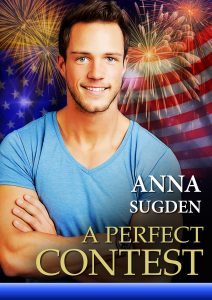 Secret crushes … unfinished business!
The last thing Ally Finnon wants is to strut her stuff in a swimsuit and patriotic head-dress for the annual Miss Firecracker contest. But she'll lose her job if she doesn't.
The last thing recently divorced, Ice Cats' forward, Jordan 'Match' Matcheson, wants is to interrupt his summer break and judge a beauty contest. But he drew the short straw, literally.
Could this finally be the chance for the former high school friends to get together and make sparks fly?
To get your free short story, simply go to the For Readers section of my website and click on the gorgeous cover.
This promotion will only be around for the next few days, so don't delay!
Happy summer (or winter to those Down Under) and Happy Reading!