Having survived the Beast from the East — which was more like a grumpy puppy than a growling behemoth — we're looking forward to spring, here in Cambridge. Although it's pouring with rain, we have had some beautiful, spring-like days since we moved the clocks forward. And it's already light until 7:30pm. It looks like our daffodils, snowdrops and other spring flowers survived the sub-zero temperatures and snow, so in a few weeks, we should have a glorious garden.
Thank you to all those of you who told me how much you enjoyed A Perfect Date – my free Valentine's Day-themed, NJ Ice Cats' short story. I really appreciate knowing that you're reading and loving these bite-sized treats.
When I asked you which holidays you'd like to see represented, a popular request was Easter. Thanks to the brainstorming talents of my lovely author friend, Donna MacMeans, we came up with what I hope will be a fun read for you – A Perfect Chance.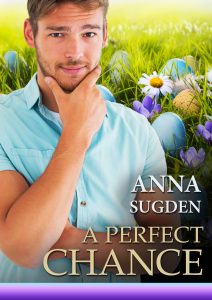 Making an Egg-stra Effort!
Ice Cats' defenceman, Hank 'Vexer' Delecchio, knows he needs a game-changer to get lovely nurse, Elise Arnett, to look past her dislike of professional athletes and take a chance on him. Will dressing up as the Easter Bunny, to entertain the kids on the children's ward, be the play that finally helps him score?
To download A Perfect Chance, simply go to the For Readers section and click on the cover in the post 'Free Easter Short Story!'
Remember, this will only be available for a limited time, so download it before it disappears!
In other news, plans are being finalised for A Perfect Selection 2, a second anthology of NJ Ice Cats' short stories, which will be released during April. It will include 5 holiday-themed short stories, including Halloween, Thanksgiving, July 4th and Valentine's Day. I hope to be able to reveal the fabulous cover to you soon. So, watch this space!
In the meantime, Happy Easter and Happy reading!