Reading books, watching programmes and going to games is a great way to learn about players. You can also get a wealth of information listening to the commentators — especially when they're as good as the Devils' duo – Mike 'Doc' Emrick and Glenn 'Chico' Resch – and hockey expert Stan 'The Maven' Fischler.
But, there's nothing like talking to the real thing.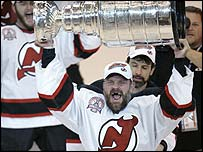 And you don't get any more real than Mr Devil himself, Ken 'Dano' Daneyko.
That's why it was an enormous thrill for me, when Devils' owner Jeff Vanderbeek arranged for me to meet with Dano.
Ken Daneyko was a gritty, physical defenseman, an almost impenetrable wall in front of the Devils' goal. One of only a handful of Devils to be on all three Stanley Cup-winning teams, Ken won the Bill Masterson Trophy in 2000 for perseverance. No greater tribute could have been paid to Ken, than having his number 3 raised to the rafters. Only the second player in Devils' history to receive that honour.
I met Ken at his gym in Hoboken — Sky Club. There he answered all my questions honestly, openly and with great humour. Whether it was about his pre-game routine, the way he explained his aggressive behaviour on the ice to his children, or how he felt when he stepped on the ice, Ken helped me to understand better what it was to be an NHL player; to live, breathe and bleed for hockey.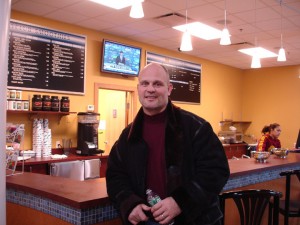 As anyone who's seen him on the television will tell you — he has a wealth of hockey stories to tell. After all, Ken began to play hockey at a time when goalies puffed on cigarettes between periods. And beer, not Gatorade, was the replenishment drink of choice. It's these colourful tales that give a writer invaluable information. They help add depth to characters; sparking ideas for how to bring players to life on the page. They also add those elements of realism that a sports fan will notice and enjoy.
My favourite story was about his teeth – or lack of :). For those who remember, fondly or otherwise, the Devils third Stanley Cup triumph in 2003, one of the most heart-warming images was of Ken — minus his front teeth – skating around with the ultimate hockey trophy raised above his head. Imagine how much fun it was to learn that his kids were so disappointed when, on retiring, he got his teeth fixed. Parties wouldn't be fun anymore without Dad impressing their friends with his gap-toothed grin.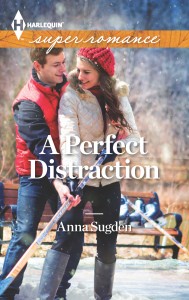 Despite his punishing hits on the ice and his lively, unfettered behaviour off the ice, Ken is a charming, humble man, who is grateful for the opportunity he had to play the game he loved and get paid for it. That he was able to play it at the highest level, and win it's greatest prize three times, is beyond compare. And the measure of the man is in how much he tries to give back — to the Devils' organisation, the community and to hockey.
I'm really grateful for the time he spent with me. A Perfect Distraction is a better book thanks to Ken's help and information.