One of the most common questions writers get asked is where you get your ideas. The simple answer is from all sorts of places. Not very helpful or very interesting. So, for those of you who want interesting, here is the story behind A Perfect Distraction. In particular, its hero – Jake 'Bad Boy' Badoletti.
By now, you know I'm a big hockey fan :). And I love romance novels. Combine the two and I'm in heaven.So, writing a hockey romance was an obvious step for me. But how to make it original? Well, I didn't have to look very far – in fact, to my very own New Jersey Devils.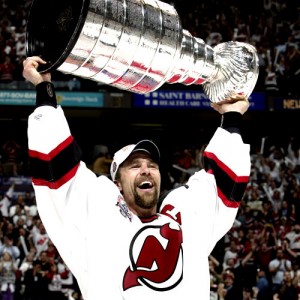 Former captain, Scott Stevens, who was inducted into the Hockey Hall of Fame in 2007, was one of the all-time great defencemen. He led the Devils to three Stanley Cups, won the Conn Smyth trophy for playoff MVP in 2000, played in more regular season and post-season games than any other defenseman and was named to thirteen all-star teams. He was also the first New Jersey Devils player to be honoured by having his number retired. No-one will wear no. 4 for the Devils again.
Scott's reputation is legendary – hard-hitting, hard-playing. Check out videos of his top ten hits on You-Tube. This man has probably given more players concussion than anyone else on ice. (Sadly, it was a concussion that forced him to retire). But he didn't take cheap shots. Scott was also a great leader and a great mentor; no-one played harder, with more commitment and intensity.
Yet, Scott is a family man who adores his wife and children. Who supported his team-mates and friends off the ice quietly; without fanfare. He has the respect of all around him, both on and off the ice. A good friend, team-mate, family man – the epitome of a good man.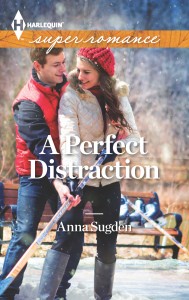 Tell me the many facets of Scott Stevens – the ultimate bad boy, good man – don't enthrall you?
They inspired me to create Jake 'Bad Boy' Badoletti; a hero filled with similar contrasts to Scott. Jake plays hard, both on and off the ice. He is the ultimate bad boy, until a tragic accident changes him. Through the course of A Perfect Distraction, he learns that he is also a good man.
Although Scott Stevens is the inspiration for A Perfect Distraction – remember, this book is a work of fiction!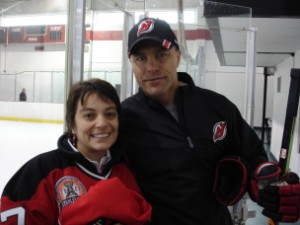 Imagine my thrill when, during the course of my research, I met Scott Stevens!
There I was, soaking up the sights and sounds of a Devils' practice, when a familiar figure skated onto the ice. A buzz went through the small crowd of spectators as we realised who it was. After practice, Scott graciously signed autographs and posed for this photo with me. Trust me, those piercing blue eyes are as arresting in person as they are in the clips!
Now, there's a real life hero.