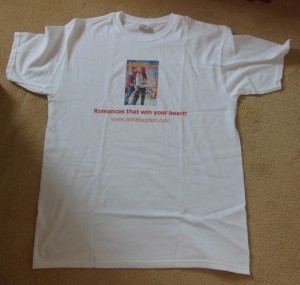 Since I live in England and won't see A Perfect Distraction on the shelves :(, I'm looking for a little help from my friends.
And, I'm throwing in a small incentive. 🙂
All you need to do, is send me a pic of A Perfect Distraction on-shelf in a store, preferably with you in it too, and tell me your name and which town and country you're in. Then, I will enter you in a prize draw to win an exclusive A Perfect Distraction t-shirt.
You won't be left out if you've downloaded A Perfect Distraction to your ebook reader/tablet or bought your copy online! Send me a pic of yourself with A Perfect Distraction – either the paperback or the book on your ereader/tablet – tell me your name and where you live (town and country), and you'll be entered into the draw too.
Email your pics to prizedraw at annasugden.com (without the spaces) and put Photo Prize Draw in the subject line. The deadline for entries is September 30th, 2013.
Some things to note: Only one entry per person. Your photo and name may be used on my website and on my social media pages. Entering will automatically subscribe you to my newsletter, but I will never give your information to anyone else. There is no alternative to the prize.