Hello everyone! Apologies that it's been so long since I last updated the news here, but it's been a very busy time since we last spoke.
I've done a fair bit of travelling with Doc Cambridge, starting with a  trip to Canada, in June, which included a visit to my fabulous publisher's offices in Toronto. As well as catching up with my editor, I got a chance to meet all the hard-working people who toil away behind the scenes to bring my books to the shelf (both real and digital). You can read all about that visit and see more great pics in my post on the Super Authors blog . We also had a lovely time in Ottawa and Kelowna on that trip.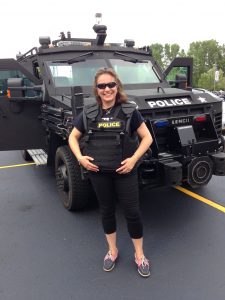 August saw a fabulous birthday surprise from Doc Cambridge – a trip to the Writers' Police Academy, which was held at the International Public Safety Training Academy, at Northeast Wisconsin Technical College in Green Bay. A fabulous, but hectic few days with fellow writers learning all sorts of useful information for future books. You can see what I got up to and some fab pics in another post on the Super Authors blog.
Oh, and yes – we did manage to find time to head to Lambeau Field to see the famous home of the Green Bay Packers. Although I'm a die-hard Redskins fan, I have definitely got a soft spot now for The Pack!

We also managed to find time for a short holiday, on Lake Como in Italy. So pretty! If only this could be my office every day!
In amongst all of that, I did manage to write about more Ice Cats. Stay tuned for more information on a Free Ice Cats' Halloween Read and  about my next Ice Cats' book – A Perfect Strategy – out in Feb 2017.
Until then, enjoy the start of hockey season and happy reading!