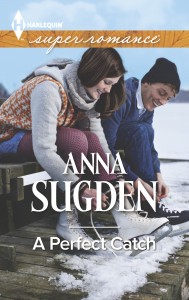 In A Perfect Catch, everyone likes Tracy's cheese scones — especially Ike. Emily, Tracy's niece (and Maggie's daughter from A Perfect Distraction), enjoyed making them too. They're a fun recipe for youngsters to make as the best way to mix the ingredients is to roll up your sleeves and do it by hand!
Several readers have asked if I would share the recipe, so here it is. These are delicious on their own, served warm, with butter, or with crispy bacon. Happy baking!
Ingredients: (makes 1 doz)
225g or 8oz of self-raising flour
55g/2oz butter
85g/3oz sharp cheddar cheese, grated
125ml/4 fl oz milk
1 egg
Preheat oven to 220 C/425 F
Mix together the flour and butter
Mix in the grated cheese
Add egg
Add milk to get a soft dough
Turn onto floured surface and knead lightly
Roll out so that it's approx 1/2in thick.
Use a 5cm/2in cutter to cut out rounds. Try not to twist as you're cutting.
Knead remaining dough together, roll out and repeat for more rounds.
Place rounds of a greased tray and brush the tops with milk.
Bake for 12-15 mins until golden.
[This recipe originally appeared on The Romance Dish]