I'm delighted to announce a much-anticipated return to the world of the New Jersey Ice Cats! I'm also returning to the lovely Caynham Castle with my fellow anthology authors.
My fabulous readers have asked when I'm going to give Juergen 'Yurg' Ingemar — the Ice Cats' Swedish sniper — his own story, after he was treated so cruelly by his now-ex-wife. Particularly, since he's been such a great friend to his team-mates when they were going through their own turbulent love stories.
Well, it's time for Yurg's happy ending! Although you know he's going to have a bumpy road to get there. Especially, when my choice for his heroine could be his worst nightmare! At least, he can't complain about the location — a midsummer visit to Caynham Castle isn't too shabby.
A Perfect Midsummer Dream
Midsummer mischief and mayhem!
When star NJ Ice Cats forward, Juergen Ingemar, finds the sexiest woman he's ever met at Caynham Castle, he feels like he's won the Cup. But is faerie-tales' author, Daisy Malden, as lovely as she seems or the kind of fame-hungry publicity shark he's sworn off? With a blast from the past, a vengeful ex-wife and a dash of faerie mischief stirring things up, can these two score a happy-ever-after and make their perfect midsummer dreams come true?
To check out A Perfect Midsummer Dream, and all the other great stories in the Midsummer Mischief at Caynham Castle, simply click on the cover above.
As an added bonus – how about a lovely summer freebie?
Head over to my For Reader page, where you can download a copy of my July 4th NJ Ice Cats' short story — A Perfect Contest.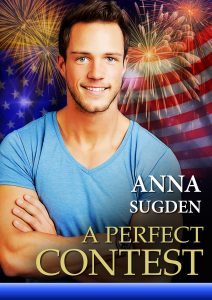 Secret crushes … unfinished business!
The last thing Ally Finnon wants is to strut her stuff in a swimsuit and patriotic head-dress for the annual Miss Firecracker contest. But she'll lose her job if she doesn't. The last thing recently divorced, Ice Cats' forward, Jordan 'Match' Matcheson, wants is to interrupt his summer break and judge a beauty contest. But he drew the short straw, literally. Could this finally be the chance for the former high school friends to get together and make sparks fly?
Remember, this will only be available for a limited time, so be sure to download quickly!
Happy Reading!