Happy New Year everyone! I hope you and yours had a wonderful holidays and are enjoying a good, healthy start to 2017. After a difficult and stressful six months, due to the decline and eventual passing of my wonderful, 94-yr-old father-in-law, I'm ready for a fresh year.
There is plenty of good news to tell you. First, I'm delighted that the fifth book in my New Jersey Ice Cats series will hit the shelves on February 1st.
A Perfect Strategy features retired Ice Cats' captain, Scott 'Scotty' Matthews and Sapphire Houlihan. Many of you will remember Sapphie as Issy's best friend in A Perfect Compromise. I had such fun pitting a woman who can't even commit to an apartment against a man who's looking for the someone to share his new life with. Especially when they have to do battle in the boardroom, as well as the bedroom!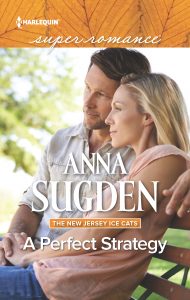 Is there really life after hockey?
If there's one thing Scotty Matthews know, it's hockey. Unfortunately, the former New Jersey Ice Cats captain isn't proving successful at life after hockey. His wife's left him and he's lost his post-ice job as a media commentator. All he's got now is a big, empty show house.
If there's one thing Sapphire Houlihan knows, it's that she never wants to be tied down to anyone or anything ever again. Unfortunately for her, a wonderful one-weekend distraction with Scotty turns into something much more complicated … Because he's a guy who wants way more than one weekend.
You can pre-order A Perfect Strategy by clicking on the cover above. I hope you love Scotty and Sapphie's story as much I do!
Thank you to all of you who contacted me to let me know how much you enjoyed my two free short stories, A Perfect Plan and A Perfect Picnic. I'm sorry that due to family issues, I wasn't able to complete the New Year's and Valentine's stories in time. I will be offering A Perfect Bouquet for free during February, for those of you didn't manage to download it last year.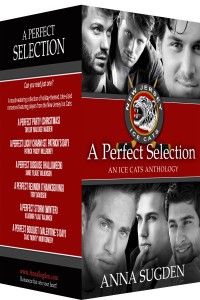 Don't forget that you can get all six of last year's short stories in my NJ Ice Cats' anthology, A Perfect Selection, for only 99c. This is only available in digital format.
I promise there will be more short stories on the way later in the year, so stay tuned!
In the meantime, I'm busy at work on the next New Jersey Ice Cats book, working title A Perfect Treat, which will hopefully hit the shelves in March 2018. I can't say too much about it right now, except that the hero is a reader favourite!
Until next time, Happy reading!