The perfect Easter treat is delicious, calorie-free and wins your heart!
Hmm … I may have just the thing.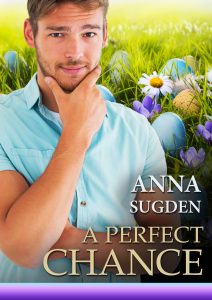 Making an Egg-stra Effort!
Ice Cats' defenceman, Hank 'Vexer' Delecchio, knows he needs a game-changer to get lovely nurse, Elise Arnett, to look past her dislike of professional athletes and take a chance on him. Will dressing up as the Easter Bunny, to entertain the kids on the children's ward, be the play that finally helps him score?
I know, still not as decadent as chocolate or your favourite candy (sorry, don't get Peeps – blech!), but on the bright side, you can indulge in both and not feel guilty.
Especially as, for a limited time, A Perfect Chance is absolutely free for you, my lovely readers!
Simply click on the cover above to download Vexer and Elise's story.
Happy Easter and Happy Reading!