*Promotion Closed*
Now that the Stanley Cup has been awarded, hockey fans have a long wait through the summer until the puck drops again on the new NHL season. Roll on October!
In the meantime, it's a good time to catch up on hockey romances.
Some lovely readers and fans of the NJ Ice Cats have asked to see a holiday-themed short story for July 4th. Always happy to please, I wrote one for you.
So, here it is … A Perfect Contest … and it's FREE for you to download during July!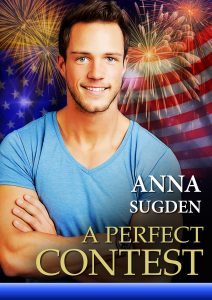 Secret crushes … unfinished business!
The last thing Ally Finnon wants is to strut her stuff in a swimsuit and patriotic head-dress for the annual Miss Firecracker contest. But she'll lose her job if she doesn't.
The last thing recently divorced, Ice Cats' forward, Jordan 'Match' Matcheson, wants is to interrupt his summer break and judge a beauty contest. But he drew the short straw, literally.
Could this finally be the chance for the former high school friends to get together and make sparks fly?
Remember, this is only free during July, so download it before it's gone!