I hope you enjoyed Drake and Gertie's trick-or-treating romance — A Perfect Plan. For those who've emailed/messaged me to ask if it will be available again anywhere, watch this space! I will have a new anthology of NJ Ice Cats' short stories for sale in the spring. That will contain all of the new short stories, starting with A Perfect Plan.
Before that, as promised, I have written another Thanksgiving-themed short story for you. A Perfect Picnic will available here, exclusively and FREE, for a limited time only. Simply click on the cover below.
*This promotion is now over *
This time, it's Will Hardacre's story.
No turkey, no pies and no power!
When a Thanksgiving snow storm knocks out the electricity, Ice Cats' forward, Will Hardacre, and his sexy, but workaholic neighbour, Amelia Norris, are stranded on the 45th floor of their apartment building. A traditional festive feast is out; the best they can do is pool the sparse contents of their kitchen cupboards. Could a candlelit picnic help them discover that they have more in common than their address?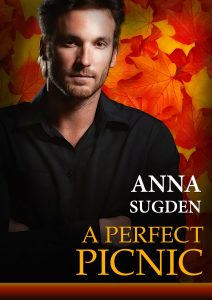 Wishing all of my friends and readers in the US, and my American friends and readers around the world a very Happy Thanksgiving!