Can you believe how fast the year is going already? It seems like it was Valentine's Day last week, and already Easter is almost upon us.
Back by popular demand is my free Easter NJ Ice Cats short story – A Perfect Chance.  For a limited time only, you can hop over to my For Readers section and download Vexer and Elise's story absolutely free!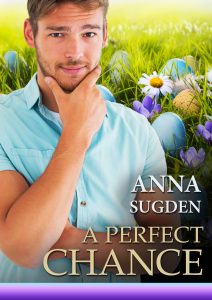 Making an Egg-stra Effort!
Ice Cats' defenceman, Hank 'Vexer' Delecchio, knows he needs a game-changer to get lovely nurse, Elise Arnett, to look past her dislike of professional athletes and take a chance on him. Will dressing up as the Easter Bunny, to entertain the kids on the children's ward, be the play that finally helps him score?
Stay tuned … A Perfect Selection 3 is almost here! Another mouthwatering collection of Ice Cats' short stories. The perfect indulgence for those of us whose favourite hockey team didn't make the Playoffs this year. Or, even if they did, to help reduce the stress of those playoff games.
I hope to be able to reveal the cover shortly.
In the meantime, Happy Easter and Happy Reading!