So excited to share lots of great news with you! (and possibly use up my entire year's worth of exclamation points in one post <g>).
First, my new series for Entangled Publishing has a new name and my first book in the series has a fab new title.
Drum roll, please!
Watch this space for a cover reveal for Icing Temptation, the first book in my Dockers Score! series. Tentative launch date is Jan/Feb 2021, hopefully just as hockey is getting back underway for the long-delayed 2020-21 season.
Lots of news for my New Jersey Ice Cats series too.
First, a delicious new cover for A Perfect Catch.
Also, I've now released A Perfect Collection, which contains the first 3 full length books in the New Jersey Ice Cats series and a bonus novella.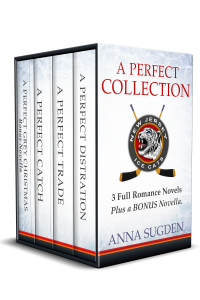 And, because it's the season of giving, head over to my For Readers' section and download not 1, not 2, but 3 free, bite-size festive reads!
As a bonus, you can also download the French and German versions of A Perfect Party!
Wherever you are and however you celebrate, I wish you and yours a wonderful festive season. Please stay safe and take care so that we can all have a happy and healthy 2021!